Enriched, Luxurious Moisture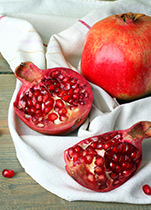 A symbol of life and beauty, the familiar round, ruby-colored pomegranate (Punica granatum) has been cultivated since ancient times throughout the Mediterranean region. The fruit and its cluster of tiny seeds have been used for food, in folk medicine, and in cosmetic applications, which is where our 100% pure Pomegranate Seed Oil comes in!
Use PipingRock's luxurious paraben-free pomegranate seed oil for hair as well as skin care, soaking your skin and follicles in soothing moisture. Cold-pressed from pomegranate seeds, it takes approximately 200 lbs of seeds to create just 1 lb of oil, but luckily a little goes a long way when using, so each bottle can last a long time.
Pomegranate seed oil naturally has a strong nutty scent that can be enhanced with your favorite essential oils for a truly delightful and unique skin and hair oil!
PipingRock's Promise:
We proudly offer you our evolving selection of Beauty & Personal Care products at the best value in the industry! From Clay Powders, to Organic Certified Coconut Oil, Biotin & Keratin Supplements, soothing Creams, Serums & More, we have you covered. We offer an endless variety of favorites that's always evolving to meet every unique beauty trend. Our formulas are crafted through environmentally-friendly practices with Cruelty-Free testing and rigid safety standards.
About PipingRock's Quality:
You've found your One-Stop-Shop for Beauty & Personal Care at PipingRock. Our products are perfected with premium-sourced ingredients and created in our own "GMP Certified" manufacturing facilities. We verify PipingRock products with third-party, FDA-registered agencies to ensure quality & purity. Each product goes through hundreds of checks, in-process and post-production. Furthermore, we can assure you that everything that is on our label is consistent with our formulas. We guarantee purity, potency, safety and innovation in everything we do.