Wholesome Nutrition in Each Bite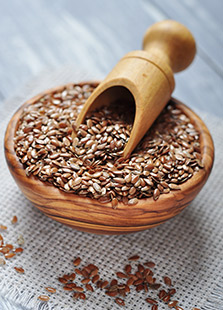 Also known as linseed, flaxseeds are harvested from the flax plant. This annual plant boasts bright purple flowers and seeded fruits that have been used in traditional health practices for centuries.
Supplying a rich balance of essential fatty acids, notably omega-3s (ALA) and omega-6s (linoleic acid), flaxseed is perhaps one of the best vegan and vegetarian-friendly sources of these important EFAs. This wholesome nutritional profile can help to support cardiovascular health, hormonal health in women and reproductive health in men.** This oil also supplies overall health-supportive antioxidants, which can promote radiant skin and healthy aging!**
Now you can add PipingRock's organic Flaxseeds to your daily regimen at the lowest cost! Add these deliciously nutty seeds to cereals, salads, blended drinks and more! As flaxseeds are so high in fiber, it is recommended that you enjoy with plenty of water.
PipingRock's Promise:
We proudly offer you a bountiful selection of real foods from reliable sources at the best value in the industry! Discover our wide variety of nutritious snacks to satisfy your strongest craving. We carry everything from Natural Sweeteners, Nuts & Seeds, Spices, Veggies Chips, Dried Fruit, Chia Seeds, Peas and Edamame in all different forms to meet your preference. Whatever you're craving, find it at PipingRock for an affordable price and complete satisfaction.
About PipingRock's Quality:
You've found your One-Stop-Shop for Snacks & Seeds at PipingRock. All products are packaged in Kosher Certified, GMP Facilities to ensure pristine quality and freshness. We verify our Snacks & Seeds with third-party, FDA-registered agencies to meet rigid safety standards. Our products are made fresh, then packed, sealed and delivered to your door. You can be assured that quality and cleanliness is our top priority! We guarantee purity, potency safety and innovation in everything we do.